Trumpet Method Books, Sheet Music, Swing CDs, free Tips by Clyde Hunt Sr.
Music and CD's of Clyde E. Hunt Sr, Ascap
Sacred Music Hymn sheet Music Descants for Trumpet/Organ Vocal Music Classical CDs
Secular Music Trumpet Method Book with CD, Sheet music, FREE Tips, Swing CDs
Sail The Seven Cs Range/Endurance Trumpet Method with CD, Pedal C-C4
"Hi Clyde,
Your tape (now Cds) and presentation are wonderful.
I was 'concerned' that a less than adequate player might be trying to get through all that material
(trumpet method books) in one lifetime. But you make it work!! Congratulations again on such a terrific
and helpful adventure. I know you've put a great deal of time and effort into it.".....Bill Bing, Los Angeles
William Bing is band director and trumpet artist in residence at the California Institute of Technology
I have recorded CDs for each of "Fifteen Trumpet Method Books"
Arban Conservatory Method * Bousquet 36 Celebrated Studies* Charlier 36 Transandentals * Clarke Characteristic Studies * Clarke Technical Studies
* Concone, 32 Lyrical Studies * Hering 30, 32, 40 Progressive Etudes * Hunt, Twelve Etudes * Sabarich, Dix Etudes * Schlossberg Daily Drills * W. Smith, Top Tones for the Trumpeter * Sousa Bugle Calls ..and more!
My accompanying CD prevents students from thinking, or believing ...."Man! Nobody can play that stuff"!
HUNT: Beginning Trumpet Method book and CD

Hunt: Natural Trumpet Method Book and CD

Hunt: Call & Response Jazz Improvisation
At age 18, this Kent State University student won the 4th trumpet seat in the Akron Symphony Orchestra. Later, I became 2nd trumpet under Maestro Louis Lane,
and was also a member of the Akron Symphony Brass Quintet, the Akron Civic Orchestra, and the Akron Goodyear Theater, until 1967.
I became the "trumpet-in-residence" from 1977 - 1984 at, "The Church of the Annunciation and St. Agnes" Episcopal Church, at 12th & Mass, Ave NE,
Washington, D.C.. The first book of 40 trumpet descants and Wedding Music for trumpet and Organ took place with Robert Schone, Organist, under Fr. Meisel, the Rector.
In 1983, Brooks Tegler's HOT JAZZ, was soon-to-become highly acclaimed! I contributed many original compositions and transcriptions to the band repertoire, as well as being lead trumpet and jazz soloist. The band has since appeared at the following Jazz Festivals: Sacramento * Central Illinois * Denver * Madison * Illiana Jazz * Pike's Peak Jazz Society * Charleston, WV Jazz society * Manassas Jazz Festival * Potomac River Jazz Club * Pennsylvania Friends of Jazz * New Jersey Jazz Club * Swinging Hannover * Paderborn * Dusseldorf * Breda * S'Hertogenbosch * Apeldorn * Ghent/ Brugge, and more. HOT JAZZ finally dis-banded c. 1995
The Big Band Jazz sheet music was composed for the "Doc Dikeman Big Band", of Washington, D.C..Hunt: Big Band Arrangements
I released two CDs with my own band "SwingThing" - Swing Jazz CDs"
I am also pleased to have been the trumpeter, along with vibraphonist John Cocuzzi, with the great Steve Jordan Trio.
Steve Jordan also played unamplified rhythm guitar with HOT JAZZ for several years, after leaving Benny Goodman.
The "No Neck Jazz Band", featuring Clyde Hunt and Billy Hancock, (RIP Billy) bass and vocalist "No Neck Jazz Band" Jazz at the "Beach".... Swing Jazz Cds from Colonial Beach, VA.
Hunt's Biographical information can be found here, and my musical efforts have been assisted by Rebecca and Hannah Hunt
Music Link: Leopold Mozart Trumpet Concerto - with a double C4 cadenza
Music Link Hunt's "I Can't Get Stated" - from the CD, "introspection".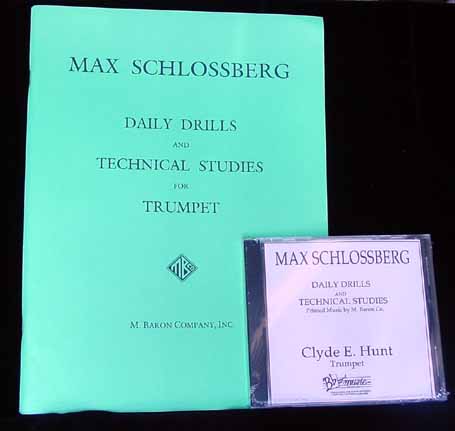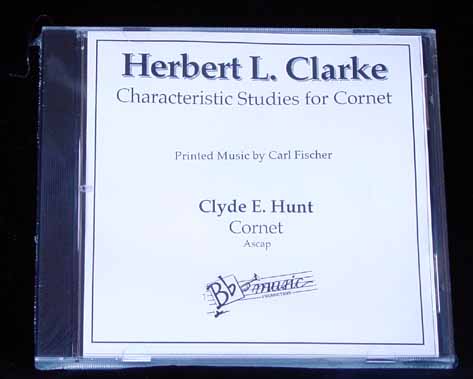 This site updated June 19, 2018. (C) copyright 1994 - 2018 B-Flat Music Production
717 Bancroft Ave. Colonial Beach, Virginia 22443, USA Phone: 804-224-7523.
Promote Your Page Too